Materials & Directions
Materials Required:
| | |
| --- | --- |
| | |
| Autoclaved dry/unscented Swiffer cloths or autoclaved 4x4 gauze pads | Evaporated skim/fat-free milk - any brand (NOT sweetened/condensed) and autoclaved opener |
| | |
| Sterile Whirl-pak bags or sterile collection jars, also zipper-lock bags for secondary containment. | Exam gloves |

Directions:
Map out areas that are to be tested on a diagram of the facility (see Floor Layout for an example).
Surfaces should have been recently cleaned, disinfected, and be dry. Please see AAEP Biosecurity Guidelines for equine facility cleaning and disinfection instructions. Scroll down to Environmental Factors.
Areas of high horse traffic are important to sample. These areas may include stocks, stalls, foaling stalls, ICU areas, isolation/quarantine areas, etc. Sample only after the area has been cleaned and disinfected.
Some areas may require multiple swabs if there are large areas or various parts such as examination room floor, stocks, crash cart, etc.
Areas within the hospital such as offices and administrative areas can also be tested to determine the source of contamination in the animal care areas. Instruments such as ultrasound machines can also be swabbed.
In some cases, feed may be important to test and this should be discussed with the laboratory prior to sending samples.
Please do not swab inside of drains, since they cannot be disinfected well and do not provide clinically relevant information.
Put on exam gloves.
Open a pack of autoclaved gauze pads or swiffers and a can of evaporated skim milk. It is ideal to use an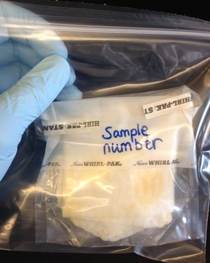 autoclaved can opener, otherwise be sure that the opener has been cleaned, disinfected, and dried.
Wipe areas to be tested i.e. corners of stall, stall walls, stall doors, stall bars, bucket hangers, buckets, etc. with a cloth or pad. One gauze swab or Swiffer pad can be used for multiple areas if you are not interested in finding out what specific area is contaminated.
Place each dirty cloth in a Whirlpak or sterile jar (include only one cloth per Whirlpak or jar) and label with permanent marker. Do not label beforehand to prevent incorrect labeling.
Pour in ~5cc of evaporated skim milk to just barely moisten the cloth (does not have to be saturated).
Place each Whirlpak or jar inside an individual zipper-lock bag, so that if there is leakage, cross-contamination of samples does not occur.
Change gloves between swabs* and repeat for additional areas.
Complete the pre-filled environmental Salmonella submission form. If you have more than 10 samples, please use the Submission Continuation form.
Ship by overnight delivery on ice packs or hand deliver such that samples arrive by 3pm. We appreciate having samples as early in the day as possible.
If not shipping directly to the lab, store samples at refrigeration temperature until they are packaged for shipping as directed. Samples must not be collected more than 5 days prior to expected delivery to the laboratory.
Be sure to include the submission form with the shipment. A copy of a map locating your testing areas is helpful.
* PCR testing is very sensitive. It is easy to cross-contaminate samples if one sample is positive, unless careful attention is paid to changing gloves between handling samples and clean sample collection materials.