A major emphasis of the Animal Health Diagnostic Center is to extend interpretation of diagnostic lab data to our clients. We provide interpretations of test results to aid in differential diagnosis. To supplement this service, our Veterinary Support Services group provides consultations with veterinary practitioners, and assistance is provided to producers in the State and Region in test selection and testing strategies, interpretation of results, and disease prevention, surveillance, and control programs.
For example, the group develops and monitors livestock and public health disease management programs such as the Leukosis Program, the Johne's Program, and the testing component for the New York Cattle Health Assurance Program (NYSCHAP).
Technical Expertise has been used to support integrated State and Regional Quality Assurance Programs which address animal preventive health and specific disease management, public health, food quality and safety, and water quality and environmental issues. Inter-agency linkages and collaborations have been made a priority to avoid duplication of effort.
AHDC Veterinary Support Services supports Animal Health Diagnostic Center research and test development by providing field samples that allow us to monitor test performance and interpretation. In addition, field investigations in food safety, beef quality assurance, Johne's disease control and economics, and bovine vaccination programs have all been coordinated through this group.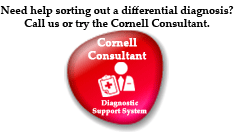 The Veterinary Support Services group also make educational presentations and provides materials relating to the above services to producer, veterinary, industry, and regulatory groups. In addition to local and regional involvement in animal health issues and policy development, the Extension group is actively involved at the national level, helping our New York industry remain competitive nationally and internationally.