Welcome to the Loe Farm
Welcome to the Loe Farm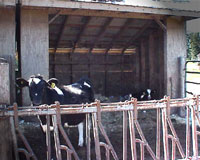 When the two heifer pens in the calf barn are full the heifers are moved to 4 super hutches holding 6 -10 heifers. They are vaccinated with a 9-way modified live vaccine. These pens have a covered-bedded pack. They share common walls that are board fences. Hutches are cleaned once or twice a year depending on farm workload. Feeding is done along a raised feed bunk. Feed consists of TMR not consumed by lactating herd plus a heifer TMR. Waterers are frost-free ball type.
Heifers are moved to a large open field that is downhill from the lactating barn. Some water drains towards one corner of the field and accumulates in puddles. This water comes from the end of the main barn where manure is scraped. Heifers are fed TMR along a fenceline feeder. This is about 30 feet long with two ball type waterers at each end.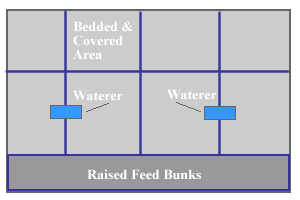 When heifers are large enough for breeding they are moved to the breeding pen. This is a long shed barn with an area of headlocks along the feedbunk. A bull is kept in this area for breeding and is only used for the heifers. Bulls are replaced based on temperament and age. New bulls come from the Doe Farm. A bedded pack is maintained under the shed. Bedding is added once a week and the barn is cleaned at least once a year. Feeding of the TMR is done along the feedbunk that is 35 feet long.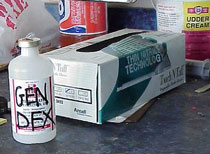 When heifers are confirmed pregnant they receive a vaccination of 9-way killed vaccine and are trucked to a ten-acre pasture behind the barn. They are fed daily in raised feed bunks. Water is from a running stream with drainage from the dry cow area of the neighboring farm and runs all year long. Once a week when heifers that look close to calving are brought down and put in the dry cow/maternity/sick pen of the calf barn. On the average they calve within 7-10 days.
A yearling heifer recently broke it's leg, was slaughtered at a USDA inspected slaughter facility and tested positive for a violative residue. The farm owners were perplexed because the animal had not been treated with antibiotics or vaccinated within the past six to eight months.
Management Areas of the Loe Farm: