Welcome to the NYS Sheep/Goat Health Assurance Program (NYSSGHAP)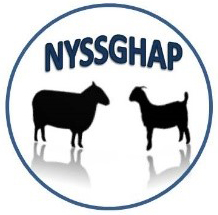 The New York State Sheep/Goat Health Assurance Program is a part of The New York State Cattle Health Assurance Program (NYSCHAP). Both are integrated disease prevention programs that utilizes a team of advisors to develop a farm-specific herd/flock health plan.

The objectives of this integrated herd/flock plan are to:
increase the herd's/flock's health, productivity and profitability
assure food safety, public health, and consumer confidence in animal agriculture
promote environmental stewardship

To enroll in NYSSGHAP, contact your herd veterinarian. They will then make arrangements with the regional field veterinarian from the Department of Agriculture and Markets.
CONFIDENTIALITY STATEMENT – THE AGRICULTURE AND MARKETS LAW, ARTICLE 16, SUBDIVISION 41 EXEMPTS FROM PUBLIC DISCLOSURE ANY PROPRIETARY FARM PROTOCOL, ANIMAL OR HERD TESTING INFORMATION AND/OR PRODUCER HERD DATA MAINTAINED IN CONFIDENCE AND VOLUNTARILY PROVIDED BY AN OWNER OR OPERATOR OF A FARM OPERATION TO PARTICIPATE IN A VOLUNTARY HEALTH PROGRAM. Records relating to diagnostic testing shall be the property of the herd owner and shall be treated confidentially by NYSCHAP/NYSSGHAP. Such records shall be received and accepted by the Commissioner as confidential pursuant to Section 23 of the Agriculture and Markets Law, but may be used by the Department in any regulatory action or proceeding involving the failure of any person to comply with the provisions of the program.
Section 1 NYSSGHAP Small Ruminant Basics
Information about the NYSSGHAP module and materials about basic biosecurity and best management practices as well as identification of breeds. Common health issues and information from the NAHMS Survey.
Section 2 NYSSGHAP Forms
The Farm Data Form and worksheet is used to get details on the farm, its management, goals and issues. Risk Assessment forms are used to evaluate risks to herd health. The Herd Plan form for creating intervention strategies to improve management, health and deal with issues.
Section 3 Sheep and Goat Diseases and Fact Sheets
Fact Sheets for common diseases in Sheep and Goats.
Section 4 USDA Scrapie Program
USDA is working on eradicating Scrapie Disease from the United States. Scrapie is a fatal degenerative disease affecting the central nervous system of sheep and goats. Scrapie has a negative impact on our ability to export animals to other countries. Also, there is a relationship between Scrapie and BSE (Mad Cow), Creutzfeldt-Jakob disease (Humans) and Chronic Wasting Disease (Deer) as these all have the same classification – transmissible spongiform encephalopathies (TSE).
Section 5 NYSSGHAP Links and Resources
Links to resources for more detailed information on diseases and programs for small ruminants.
Section 6 NYSSGHAP Presentations
Power point presentations on biosecurity and diseases