Cornell CVM Receives Gift from George Goldner and Nancy Krieg; Announces Naming of Nemo Farm Animal Hospital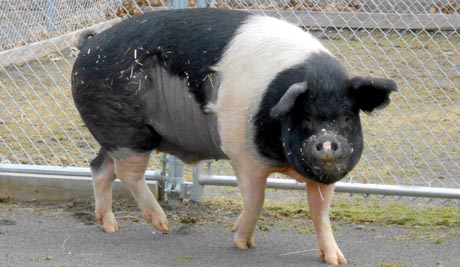 ITHACA, NY — The Cornell University College of Veterinary Medicine (CVM) announced that it has received a gift from George Goldner and Nancy Krieg, animal lovers of creatures great and small from Bedford Hills, NY. The college will name its farm animal hospital the Nemo Farm Animal Hospital for the couple's beloved pig. Nemo made headlines in 2013 as the first of his species to undergo a multidrug chemotherapy protocol for lymphoma, an aggressive form of blood cancer.
CVM oncologists treated Nemo with the chemotherapy protocol used for treating lymphoma in dogs, cats and humans, modifying the delivery method for a 730-pound pig. The treatment put Nemo's disease into remission for more than a year and markedly advanced comparative cancer therapy knowledge.
"We are deeply grateful to George and Nancy for their generous gift in memory of Nemo," said Michael Kotlikoff, Austin O. Hooey Dean of Veterinary Medicine. "It will help us to remain at the forefront of cancer research, to purchase the necessary technology and to recruit the very best talent to carry out this vital work."
"We are delighted to memorialize dear Nemo by supporting this great institution, which extended his life with intelligence, creativity and dedication," said Goldner. "His story touched many hearts and we hope it will encourage the belief that all animals deserve compassionate care and kindness.
The College of Veterinary Medicine at Cornell University is recognized internationally as a leader in veterinary medical education, biomedical research and public health. Established in 1894 and located on the Cornell campus in Ithaca, NY, it is consistently ranked among the top veterinary colleges and schools in the United States.