Farm Calls Through The Ages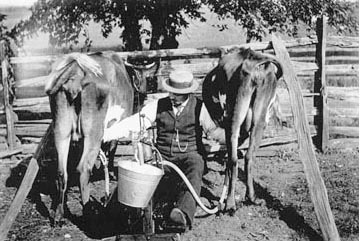 by Rachel Hasch
From the establishment of Cornell's College of Veterinary Medicine to the development of the new Dairy Center of Excellence, Cornell has always been regarded as a leader in dairy production medicine, diagnostics and disease prevention. Beginning with the work of Dr. James Law in the late 1800s, Cornell faculty, staff and students have made farm calls a part of everyday life.
Dr. James Law, America's first university veterinary professor began his teachings at Cornell University the only way possible in 1868: by taking students on farm calls in a three-seated wagon handled by a pair of horses. Through the Ambulatory and Production Medicine Clinic, the country's first ambulatory service, Dr. Law and his students were able to provide routine and emergency veterinary service on farms within 30 miles of Ithaca, New York. The service included care of individual cattle, horses, small ruminants, camelids and swine, as well as implementation of production medicine programs in local herds. In 1876, Dr. Law published the first of 15 editions of The Farmer's Veterinary Advisor to serve farmers "beyond the reach of the accomplished veterinarian."
Furthering its outreach in the farm animal industry, Cornell's College of Veterinary Medicine housed the Quality Milk Production Services division, established in 1946 by then Governor Thomas Dewey. Quality Milk Production Services was built upon what was formerly known as the New York State Mastitis Control Program, a mastitis research program initiated by Drs. D.H. Udall '1901 and Seth D. Johnson in the 1930s. Over the next 30 years it was operated out of the College, eventually becoming a program of the Department of Agriculture and Markets.
The Quality Milk Program was a part of the Department of Clinical Sciences in the Veterinary College until 1986, when it came under the administrative umbrella of the Diagnostic Laboratory where it resides today. Initially focused on diagnostics, the program has developed into comprehensive extension education designed to offer assistance to all dairies in the state. It continues to work closely with the Colleges of Veterinary Medicine and Agriculture and Life Sciences in developing specific programs aimed at mastitis and other disease prevention along with quality milk production.