Endocrinology Laboratory: Adapting to your needs

Following the philosophy of the broader Animal Health Diagnostic Center in which it operates, Cornell's Endocrinology Laboratory is a study in flexibility. From reproductive tests in cats or cattle to metabolic profiles in dogs or dolphins, the lab offers broad health and research testing services that can adapt to the needs and circumstances at hand, as it did when it studied the health of dolphins who were exposed to oil in the aftermath of the 2010 BP Deepwater Horizon oil spill.
Its Clinical Testing Services help veterinarians and scientists improve the health of animals, whether they are pets, food and fiber producers, athletes, wildlife, or denizens of zoos or research laboratories. The wide variety of adrenal, metabolic, reproductive, and thyroid tests available usually focus on dogs, cats, cattle, and horses, but can be easily adapted to many other species. For example, when Cornell became involved with helping an elephant in Syracuse's Rosamond Gifford Zoo through her pregnancy and to deliver a healthy baby, the lab helped monitor the mother's pre-birthing hormones.
"We had to run tests and interpret them a little differently from the routine species," said Lab Manager Steven Lamb. "We serve all sorts of clients, from Merck to NOAA to a high-school class in NYC wanting to measure hormones in milk. The diversity of our activities also gives us flexibility to try and develop new tests. Our Contract Research Testing service helps us expand our testing portfolio by providing the impetus to add and validate new tests. For example, we developed a way to use adrenocorticotropic hormones as biomarkers for diagnosing equine Cushing's disease and metabolic syndrome in horses. "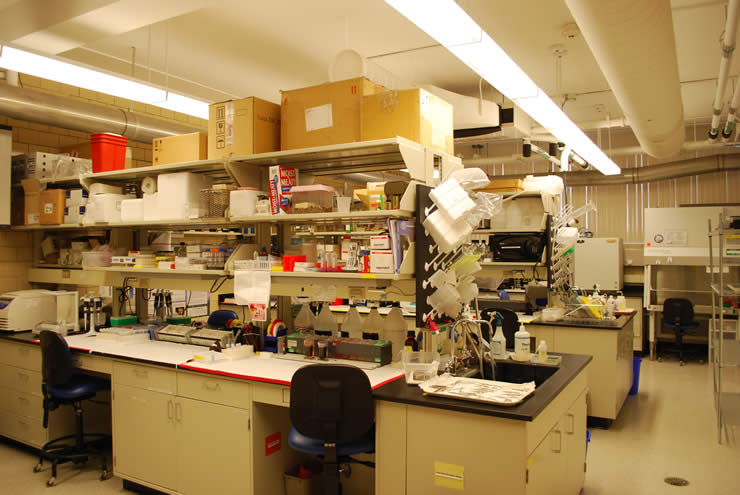 The lab's robust Research Testing Service is utilized by diverse kinds of clients. The service and the expertise behind it support research across Cornell and other universities throughout the world, as well as studies by non-profit foundations, institutes, and governments. Scientists in pharmaceutical and life science industries also make use of the service, whose reporting system can produce result reports in a variety of formats tailored to the specific requirements of a veterinarian or researcher.
Dr. Ned Place leads the lab as director, overseeing nine other staff including Lamb, Extension Veterinarians Drs. Barbara Schanbacher and Jeri Cheraskin, and six medical technologists. When they're not running tests or developing new ones, the staff provides educational outreach and consultation to veterinarians, visiting researchers, and students.
The Endocrinology Laboratory is one of many labs within the AHDC offering broad, deep, adaptable expertise. All AHDC units regularly respond to unusual, non-routine situations in a spectrum of specialties, from bacteriology to wildlife, with veterinary support specialists on hand to help understand and accommodate the diverse client needs that come the AHDC's way.