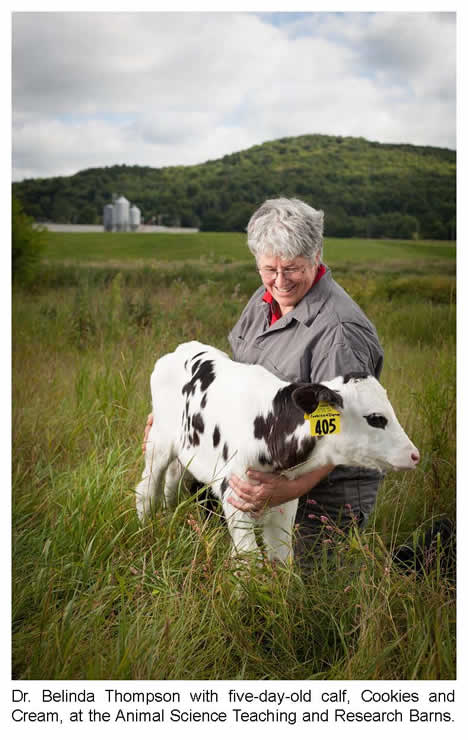 Salmonella can cause serious disease on cattle farms, killing calves, causing cows to abort, contaminating raw milk, and harming humans along the way. As the cattle-adapted strain Salmonella Dublin creeps into the northeastern United States, veterinarians and farmers struggle to catch the bacteria in time to protect livestock and stymy the growing public health risk.
Meanwhile the Animal Health Diagnostic Center (AHDC) at Cornell's College of Veterinary Medicine has uncovered a troublesome turn; it has increasingly been isolating multi-drug resistant Salmonella Dublin from samples submitted from cattle premises in the Northeast.
"All the samples we've seen in recent years have shown resistance to a wide range of antibiotics," said Dr. Belinda Thompson, senior extension associate at the AHDC. "We don't know how and when multi-drug resistant strains emerged in the northeastern bovine industry or how widespread they are but we follow up on every case to help contain outbreaks."
The AHDC monitors and combats this and other diseases through diagnostics, consultations with veterinarians, and outreach programs. Its veterinarians cooperate with New York State to provide educational materials about the control of Salmonella Dublin in herds and conduct outreach education programs across the Northeast to help veterinarians understand and control the disease. They also participate in research projects to gauge the effect of recommended control measures in modern dairies and research the disease's prevalence in collaboration with the USDA.
A one-of-a-kind test the AHDC is using to identify Salmonella Dublin infections has offered farmers a new tool to keep the disease at bay. The test detects antibodies, making it cheaper, quicker, safer, and more sensitive than prior methods relying on culturing bacteria. It also reveals dormant infections in carrier animals, helping farmers and veterinarians monitor infection spread over time and track the impact of control measures.
"This disease needs to be controlled with management practices on the farm," said Dr. Thompson. "Recent introduction of Salmonella Dublin into a population with no prior exposure might, under the right conditions, result in an explosive outbreak. Outbreaks of clinical illness in calves, in herds where the infection is apparently endemic, are reported to occur when there are breakdowns in management."
To reduce the risk of infection, the AHDC recommends maintaining clean maternity pens, prompt removal of calves from dams, fastidious colostrum management, milk and feed utensil sanitation, pasteurization of raw milk fed to calves, promotion of good air quality, and reduction of stress by providing clean, comfortable housing and proper nutrition. Warning signs including fever, abortions, and respiratory signs (especially in calves) including coughing and labored breathing can clue cattle caretakers in to possible infections. Unlike other strains of Salmonella, diarrhea is not a consistent sign of illness associated with Salmonella Dublin
People, other livestock, and companion animals are also susceptible. Individuals with weakened or suppressed immune systems, pregnant women, raw milk consumers, and the very young and very old are most at risk. Salmonella Dublin infections are reported in apparently healthy individuals who do not fall in these higher risk groups, however.
"Beyond cattle, we're very concerned with the public health implications of Salmonella Dublin on dairy farms," said Dr. Thompson. "People can get very sick from this disease. Animal caretakers in contact with Salmonella Dublin-infected animals are exposed to infectious bodily excretions. It can also threaten companion animals—we recently had a case of a dog infected after chewing on raw meat bones. Just as drinking raw milk puts people at risk, raw meat diets put pets at risk. Avoiding these practices can help prevent infection."
Carly Hodes '10, MBA '15, is a communications specialist at the College of Veterinary Medicine.