New Test Code and Discount
AHDC Parasitology is introducing a new test code for their Fecal Flotation Test beginning August 2018. Currently, fecal flotation is offered as two different methods, Fecal Qualitative and Fecal Quantitative. The method is determined by the host species submitted and the sample condition. Starting August 1st, 2018, these methods will be grouped under a single test code called FLOAT. With this new code either a qualitative or a quantitative fecal flotation result will be reported.
More importantly, we are introducing a new Fecal Float with Discount (FLOAT6) test for an accession requesting FLOAT on six or more samples. This new test will cost $20.00/sample which is a savings of 20%.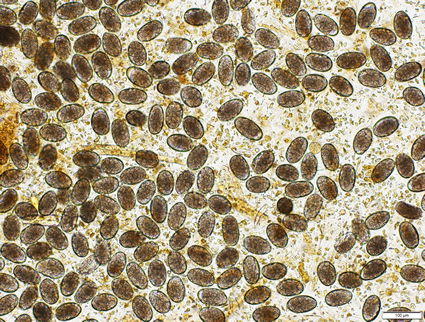 Strongyle eggs on FLOAT. Photo courtesy AHDC Parasitology