Laboratory Medical Technologists in Clinical Pathology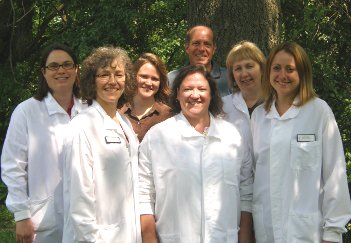 Behind every value reported from our laboratory is a team of dedicated medical technologists (MT). MTs are highly trained and skilled personnel that perform complex chemical, biological, hematological, immunologic, and microscopic analysis. MTs possess a bachelor's degree (usually in medical technology, biology, or chemistry) from an accredited medical technology or clinical laboratory science program. Certification as a MT hinges on passing a national (and sometimes a separate state) examination. The two agencies for certification of Medical Technologists are the American Medical Technologists (AMT) and the American Society for Clinical Pathology (ASCP). To work in a New York State licensed laboratory, Medical Technologists need to obtain a Registration Certificate for licensure from the University of the State of New York Education Department, which needs to be renewed every 2 years.
The MTs in our clinical pathology laboratory are the first line in assuring quality results. Currently, seven MTs are employed by the laboratory, several of which have worked at the laboratory for over 20 years! Our MTs often have an area of expertise and may perform dedicated tasks such as flow cytometry, cytochemistry, or serum protein electrophoresis; however, many of our MTs are cross-trained in all disciplines. Four MTs are dedicated to hematology and perform routine complete blood counts with manual differentials. When abnormal or suspicious cells or results are seen on the CBC, the MTs send the results (and smear) to one of our clinical pathologists for review. Two MTs are dedicated to performing routine chemistry testing and one MT is dedicated to Immunology testing.
Clients that call the laboratory regarding technical issues often have their questions answered by one of the MTs as they are a wealth of information regarding the nuances of individual tests. Being a MT in the veterinary field is particularly demanding as the training for certification is oriented towards human medicine. MTs working in a veterinary laboratory must not only have a firm understanding of the test they are performing but also become acquainted with how species variation will affect that test. Our technologists love the challenge and nuances of different species. On a periodic basis, one of our clinical pathologists visits MT training programs in the region to discuss opportunities for employment in veterinary laboratories. Not all veterinary clinical pathology laboratories employ MTs, but here at Cornell, we feel that the expertise they possess is invaluable in generating the highest quality of laboratory results.