Research/Development Services
Research and development is part of the mission of the AHDC at Cornell. The Virology Section is available to collaborate with you to develop new or improve existing test methods and reagents, investigate specific problems or provide customized testing to meet your needs.
For further information or to discuss your needs, please contact Dr. Edward Dubovi. We look forward to working with you.
Emerging Canine Respiratory Viruses
In the past decade several previously unrecognized viruses have been associated with acute respiratory disease in canines (ARDC). In 2003 a type II coronavirus was reported in dogs in the UK (1) and in 2005 our laboratory first identified influenza virus in racing greyhounds (2). Since the initial reports, studies on the prevalence of canine respiratory coronavirus (CRCoV) and canine influenza virus (CIV) have shown that they are both commonly found in outbreaks of ARDC (3,4).
Most recently, our research has led to the discovery of yet another virus associated with ARDC (5,6). Canine pneumovirus (CnPnV) belongs to the paramyxovirus family and is most closely related to a murine pneumovirus (pneumonia virus of mice) and the respiratory syncytial viruses. As with CRCoV and CIV, disease association is difficult to prove largely due to the often complex nature of ARDC. The syndrome often involves multiple infectious agents that are maintained and transmitted quickly as new dogs are continually introduced to the housing facility.
Ongoing research efforts are directed at determining the prevalence and genetic diversity of CnPnV in ARDC. We have developed a specific PCR assay for CnPnV that we expect to offer as an official test in the spring of 2011. Our laboratory has specific expertise in the study of viral infections in ARDC and in the isolation, identification and characterization of novel viruses in all species. Please contact Dr. Edward Dubovi, Director of Virology, if you or your organization has testing needs or you are interested in sponsoring a research project.
References
Detection of a group 2 coronavirus in dogs with canine infectious respiratory disease. Erles K, Toomey C, Brooks HW, Brownlie J. 2003. Virology. Vol. 310, pp. 216-23.
Transmission of equine influenza virus to dogs. Crawford PC, Dubovi EJ, Castleman WL, Stephenson I, Gibbs EP, Chen L, Smith C, Hill RC, Ferro P, Pompey J, Bright RA, Medina MJ, Johnson CM, Olsen CW, Cox NJ, Klimov AI, Katz JM, Donis RO. 2005. Science. Vol. 310, pp.482-5.
Canine respiratory coronavirus: an emerging pathogen in the canine infectious respiratory disease complex. Erles K, Brownlie J. 2008. Veterinary Clinics of North America: Small Animal Practice. Vol. 38, pp. 815-25.
Canine influenza. Dubovi EJ. 2010. Veterinary Clinics of North America: Small Animal Practice. Vo. 40, pp. 1063-71.
Pneumovirus in Dogs with Acute Respiratory Disease. Renshaw, R.W., Zylich, N.C., Laverack, M.A., Glaser, A.L., Dubovi, E.J., 2010. Emerging Infectious Diseases Vol. 16, pp. 993-95.
Genomic analysis of a pneumovirus isolated from dogs with acute respiratory disease.Renshaw, R.W., Laverack, M.A., Zylich, N.C., Glaser, A.L., Dubovi, E.J. 2011. Veterinary Microbiology (in press).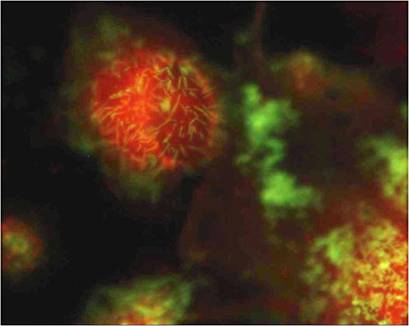 CnPnV filaments budding from a canine cell in the lab