Testing Strategies for Molecular Diagnostics

Respiratory disease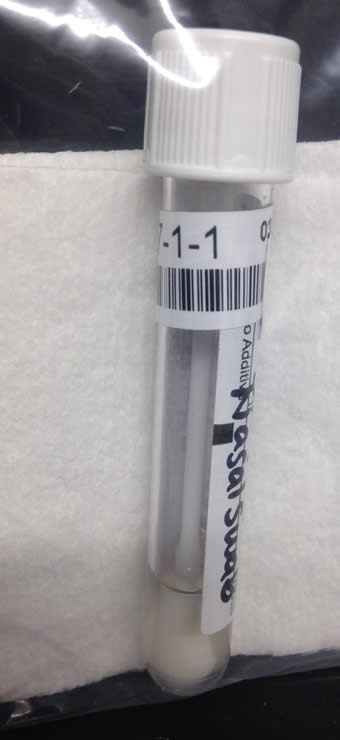 Samples should be collected within 3 days of clinical onset or earlier for best diagnostic sensitivity
Swabs should be in sterile, sealed vials with several drops of saline added (swabs from the same animal will be pooled)
Do not send swabs in bacterial transport media. Cotton, plastic, wood-handled, Dacron, and other synhetic swabs are all acceptable
Tracheal washes and respiratory tissues can also be tested (a processing fee will be charged for fixed tissues)
Species-specific recommendations:
See image at right for example of a saline-moistened nasal swab, trimmed and placed in a tube next to absorbent material in a sealed bag.

Tick-borne disease and fever of unknown origin
EDTA blood
CSF
Ocular fluid
CNS tissue/ equine nuchal ligament biopsy
Skin biopsy (if rash present) – not fixed
Samples currently under evaluation for diagnostic sensitivity (currently tested at no charge):
Samples may be tested for additional agents at no charge as part of our validation process. A listing of these agents can be found on our tick testing site.
Please see our test list and species-specific diagnostic panels on the AHDC home page for more information. Components of panel tests can be requested individually, however we encourage our clients to take advantage of panel testing for the most comprehensive results.