Spotlight
New Immunophenotyping service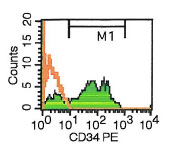 As of February 4, 2013, the Clinical Pathology Laboratory at Cornell University is pleased to offer immunophenotyping on venous blood, bone marrow, and cytology samples in dogs and cats. More
Past Spotlights
The clinical pathology residency is highlighted in the February 2011 'Scopes magazine from Cornell's College of Veterinary Medicine.
One senior clinical pathology resident won an American Society of Veterinary Clinical Pathology award for her research abstract presentation at the 2012 annual meeting of the Society. More on this story
| | | | |
| --- | --- | --- | --- |
| | | | |
| | This link leads to the online Clinical Pathology "textbook" | This link provides information on our Clinical Pathology Residency | This link leads to the Case of the Month. |
The Clinical Pathology Laboratory is in the Department of Population Medicine and is also a unit of the Animal Health Diagnostic Center at Cornell University. The Laboratory is staffed by three clinical pathologists, all of whom are board-certified by the American College of Veterinary Pathologists, 2 clinical pathology residents, a laboratory manager, 7 medical technologists and 2 administrative assistants. We have a high-volume, high-quality laboratory equipped with state-of-the-art analyzers. We provide diagnostic testing and professional consultation services to the Cornell University Hospital for Animals, to researchers affiliated with Cornell University and to private veterinary practitioners and researchers throughout New York, the USA, and worldwide.
The clinical pathology section is an academic unit with three mandates:
Professional diagnostic service: We are committed to performing high-quality, timely, comprehensive, and accurate laboratory testing of animal specimens in the areas of hematology, clinical chemistry, diagnostic cytology, immunology, and urinalysis. As part of this service, we provide professional consultation for our laboratory results.
Education: We are dedicated to educating current and future veterinarians in clinical pathology through our residency program, interactive case-based lectures, laboratories and seminars, elective laboratory rotations for students, interns and residents, and web-based educational resources (see eClinPath below).
Research: We are committed to contributing to the advancement of knowledge in clinical pathology through investigative research. Our faculty and residents are actively involved in clinical applied research, which is a vital component of our residency training program. Current research areas of interest are:

Hematopoietic neoplasia, such as leukemia and lymphoma
Thrombotic disorders in animals
Hematologic disorders, including iron deficiency anemia and immune-mediated hemolytic anemia